EVENT OVERVIEW – PUMA Boxpark concept store TWENTYONE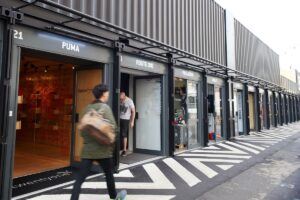 PUMA wanted to create a unique concept store called TWENTYONE (centered around their store unit number; 21) at Boxpark Shoreditch
THE BRIEF – Create a Visually Inviting Pop-Up store from a Shipping Container
PUMA introduced their new unique concept store 'Twenty-One' at Boxpark situated in London in 2012
The store would only stock 21 styles of footwear at a time, with the stock being refreshed every 21 days. In the entrance to the store, a beautifully crafted wooden list showed the currently available 21 special and limited edition pieces of footwear. The store also featured a clock counting down to the next delivery of limited edition stock.

SOLUTION – GTMS built and fitted out a 40ft container crate
GTMS worked with Capitalize and designers Wilson Brothers to deliver the store revamp and branding inside a 40ft long container.
The interior, a work of art in its own right showcased GTMS' superior craftsmanship skills. A wall created from 225 drawer units not only allowed for storage of stock within the small 40ft space but was also visually impressive with the display of items on sale becoming less like a shoe shop and more like an art exhibition.