Shipping containers could offer a creative solution for online brands looking to create a physical presence in the real world.
Shipping containers could help brands meet the need to engage with people via more immersive brand experiences.They offer online brands a low cost, flexible smart way to hit the high street to bring their brands to life.
'Customer experience will be overtaking price and product as the key brand differentiation by 2020', according to the latest Walker Study.
Millennials now make up 81% of the global workforce and their purchasing power has surpassed the baby boomer generation. They are less prepared to trust traditional advertising and prefer to shop in store (75% choosing to do so). This has thrown up a major challenge for online brands, who now recognise they can't just rely on the internet only for their trade. TimeTrade's State of Retail 2015 reports that a whopping 90% of people are likely to buy after receiving help from knowledgeable staff in-store confirming that people still want the human touch. So even though online shopping has never been easier, the big online companies cannot ignore the fact that people who see products in person are more likely to buy them – creating physical brand experiences could be priceless.
Google and Amazon have already seen the need to communicate with people face-to face and began opening their first physical shops in 2015. The trend for online retailers to create real-world stores appears to be picking up pace with Alibaba announcing in January 2017 that they would be investing $2.6bn in a Chinese Mall Operator, and Amazon acquiring Whole Foods Market for $13.7bn in June this year.
But not all online retailers and online brands wanting to engage physically with their target audience have Amazon's, Google's or Alibaba's deep pockets. Creating physical stores isn't cheap, competition in the real world is just as fierce as online and there are risks involved in taking leases and investing high street stores.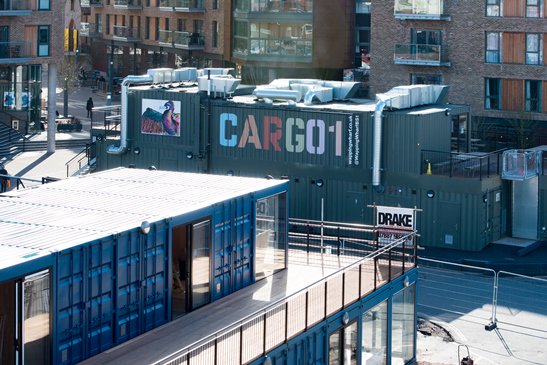 Shipping containers offer a smart, flexible solution to brands wishing to create a physical presence. They offer the ability to create pop-up stores and immersive environments with minimal investment. Containers can be deployed short-term tactically in city centres or at events, or can offer longer-term retail solutions such as the hugely successful Box Park in London and the newly opened CARGO container shopping centre on Bristol's Harbourside.
Shipping containers offer a nimble and flexible approach to retail, they can also be easily transported literally 'picked up and dropped off' in any pre-arranged location, meaning they can be deployed at a specific place, at a specific time, for a specific duration, to meet a specific need. In effect, they are the ultimate pop-up shop.
Containers can go to meet your audience, so rather than hoping people will come to you, they open the door for brands to go to sporting events, festivals and, well, anywhere!
The Creative Spaces team have been converting shipping container crates into brand experiences for over 10 years, including fitting out one of Puma's first pop-up shops in Box Park. We have created mobile retail units for: Asus & Acer and experiential marketing campaigns for, The NFL, Cineworld, Coca Cola including working with Create London to create Just Eat's food for your mood experience.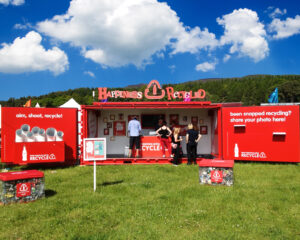 Creative Spaces can tailor production to your budget and requirements, creating stunningly engineered structures to stop people in their tracks, get people talking and create brand advocates. With shipping container conversions starting at around £10k-£20k a lot less than a shop-fit out, they can be designed and adapted to offer cost effective structural solutions to allow a brand to engage face-to-face.
In the last few year Creative Spaces has gone from strength to strength, as more and more clients have chosen shipping containers as the ideal structural solution to meed their needs, but Creative Spaces always has time to do more and are keen to help more brands make the move from being intangible and distant to being close, physical, immersive and fun. So if you like what we do get in touch at Contact us, we'd love to help