We love the use of this shipping container to create Virgin Media's mobile store in Bristol's Cabot Circus shopping centre.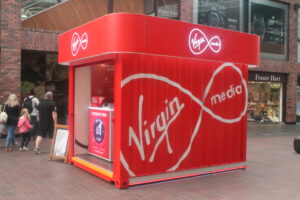 Shipping containers offer brands and companies a great way to create highly mobile, high impact spaces for brand experience events and retail. Virgin Media's shipping container conversion is another example of their versatility and usability of these structures.
Creative Spaces specialise in converting the humble shipping container into amazing spaces for retail, events, pop-ups and more…
If you think one of Creative Spaces container crate conversions could offer the event or retail solution you need don't hesitate to get in touch with alex.kopfli@gtms.co.uk.