THE EVENT – #SeeLondonByBike
To promote Transport for London's (TFL) #SeeLondonByBike initiative GTMS' Creative Spaces designed and built and interactive, educational stand that was deployed in high footfall London tourist locations.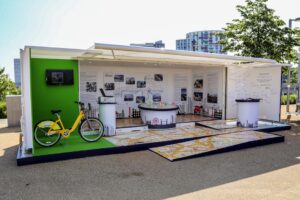 THE BRIEF – A portable touring set encouraging cycling in the capital
Working alongside The Persuaders, Creative Spaces produced, a highly portable touring set the purpose of which was to encourage people to commit to cycling in London.
THE SOLUTION – A 20ft shipping container with green screen, interactive maps and social media opportunities
We adapted a 20ft shipping container and transformed it into an educational hub.
Incorporated into the container was a 'green screen' photo wall giving people the opportunity to capture themselves cycling through London on a TFL bike and share the fun image on social media.
Included within the container were interactive route maps, wall mounted digital screens displaying useful information and stunning photography of places of interest to visit.
The stand was designed to be accessible by all incorporating access ramps and low level displays and comfy seating.